(MP) - Either sipping on Mint Juleps and gorging on Burgoo on "Millionaire's Row," or drinking straight from a bottle of Jim Beam down in the "The Infield," over a 100,000 spectators and revelers came out to Churchill Downs in Louisville, Kentucky for "The Most Exciting Two Minutes in Sports." The Kentucky Derby is one of the crown jewels of the elusive Triple Crown, which includes the Belmont Stakes and the Preakness Stakes. It is also one of the most heavily gambled sporting events of the year.
This year's winner, and a 50-1 long shot, was Mine That Bird - one of the biggest upsets in Kentucky Derby history, winning by more than 6 lengths. Mine That Bird covered the 1 1/4 miles in 2:02.66 and paid $103.20 to win. However, the buzz around the area, as well as around the country, is "who exactly bet on this loser?" Well, it seems that more and more people are coming forward claiming to have done just that…or at least, thought about doing just that.
"When 'I Want Revenge' was scratched," explains Bobby Jackson, a ballet instructor who came to "The Run for the Roses" to finance his ballet school, "I looked at that [email protected]#&ing mule and thought, 'maybe I should bet on a loser.' But, then I came to my senses because I hang out with enough losers, so I put it on 'Friesian Fire' at 5-1. [email protected]$#%ing Christ! I almost picked the winner!"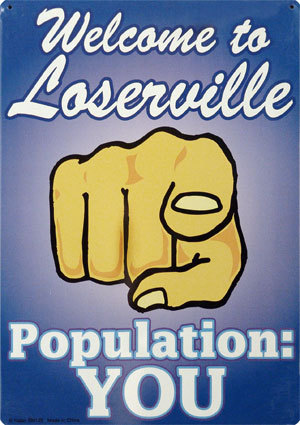 The excitement of thinking about betting on the horse that won was also expressed on "Millionaire's Row." London Marriot, attired in a long dress, big hat, carrying a fancy umbrella, and completely inebriated also lamented her missed opportunity, "Oh my God! I thought about betting on him when the horses were paraded before the grandstands. But then the marching band started, people were singing, I slipped off to the bathroom with Brandon, and like, I came back and betted on 'Mr. Hot Stuff.' Wait, or did I already bet on him, and wished I hadn't? I don't remember…I was pretty gone."
This "arm chair quarterback" syndrome was not exclusive to the visitors to Churchill Downs. Spectators across America have also reported that they "almost" picked this year's winner as well.
"I called my bookie cause I don't like the OTB," explains Millis Hobgood, a resident of New York City, "and I told him to run with Dunkirk and Pioneer of the Nile (both at 4-1), and then Mine That Bird. But I misread the name, and I called him back and bet on Summer Bird. I wanted Summer Bird…I like the summer…not mines. But I picked the winner initially!! How about that?"
This mass self-deception has been found to actually be quite prevalent across all major sporting events, as well as on all suburban high school sports fields across the country. Studies are showing that more people believe that they are able to consistently pick winners, but then for some reason decide to neglect their instinct. In a cross-study conducted by the University of Mania, it was found that 90% of the people that believe that they almost picked an eventual winner, but didn't, are completely full of shit.